Conference Event Photography at The Phoenician
Tech Conference with Adobe at Luxury Resort in Scottsdale, Arizona  
The Phoenician Resort Event Photographer
Surrounded by rugged mountains, towering saguaro cactus, and a gorgeous desert landscape The Phoenician Resort is an ideal luxury hotel for high-end corporate conferences and events. When our long time clients, the tech company Adobe, contacted us about providing photo storytelling for a three day conference at the Phoenician in Scottsdale, Arizona, accepting the project was an easy yes.  
Our event photography is different than most of what is out there. When we photograph conferences for our corporate clients, the event photography is so much more than just keynote speakers. Most of the events and conferences we photograph include a combination of lifestyle photography, images of landscapes and architecture, photography of decor and branding details, headshots and portraits, and powerful journalistic style photography that documents networking and collaborative interactions among conference attendees.  
The photographs we create for our conference clients are often used for marketing, branding, websites, social media, press release, to promote future versions of the same event, and as a historical archive for the company. 
Most conference photography begins by establishing a sense of place. We create artistic images of landscapes, architecture, built and designed spaces, and branding details. These images help to communicate the gravitas and quality of the company hosting the conference, their sponsors, and the many attendees. Here are a few examples:
"Drew Bird and his creative team are excellent professionals. Their images are breathtaking. And their talent, work ethic and dependability is why I fly them all over the world to document our events and to tell our story. From pre-planning to final image delivery, I always know I'm receiving top level service and world-class event photography."
– Rachele C. | Global Events Manager | Adobe
Networking, Corporate Events, and Documentary Style Photography
Over the course of three days we photographed a really fun collection of networking gatherings and special events with the gorgeous landscapes of the Phoenician Resort as backdrop. These included evening parties with live music, sunrise yoga sessions, and road cycling clinics with sponsor Cannondale and Adobe conference attendees. 
The foundation of our event photography always includes powerful and energy filled images of the conference attendees interacting, engaged, and having a great time. Our team's renowned ability to create journalistic style imagery helps to differentiate and propel our client's marketing and branding. By documenting authentic connections between people, with key branding and logo elements in context, our images help to impress conference sponsors and partners while also driving interaction with and creating enormous value for the hosting company's brand. Here are a few examples of journalistic style networking images from Adobe's corporate conference at The Phoenician: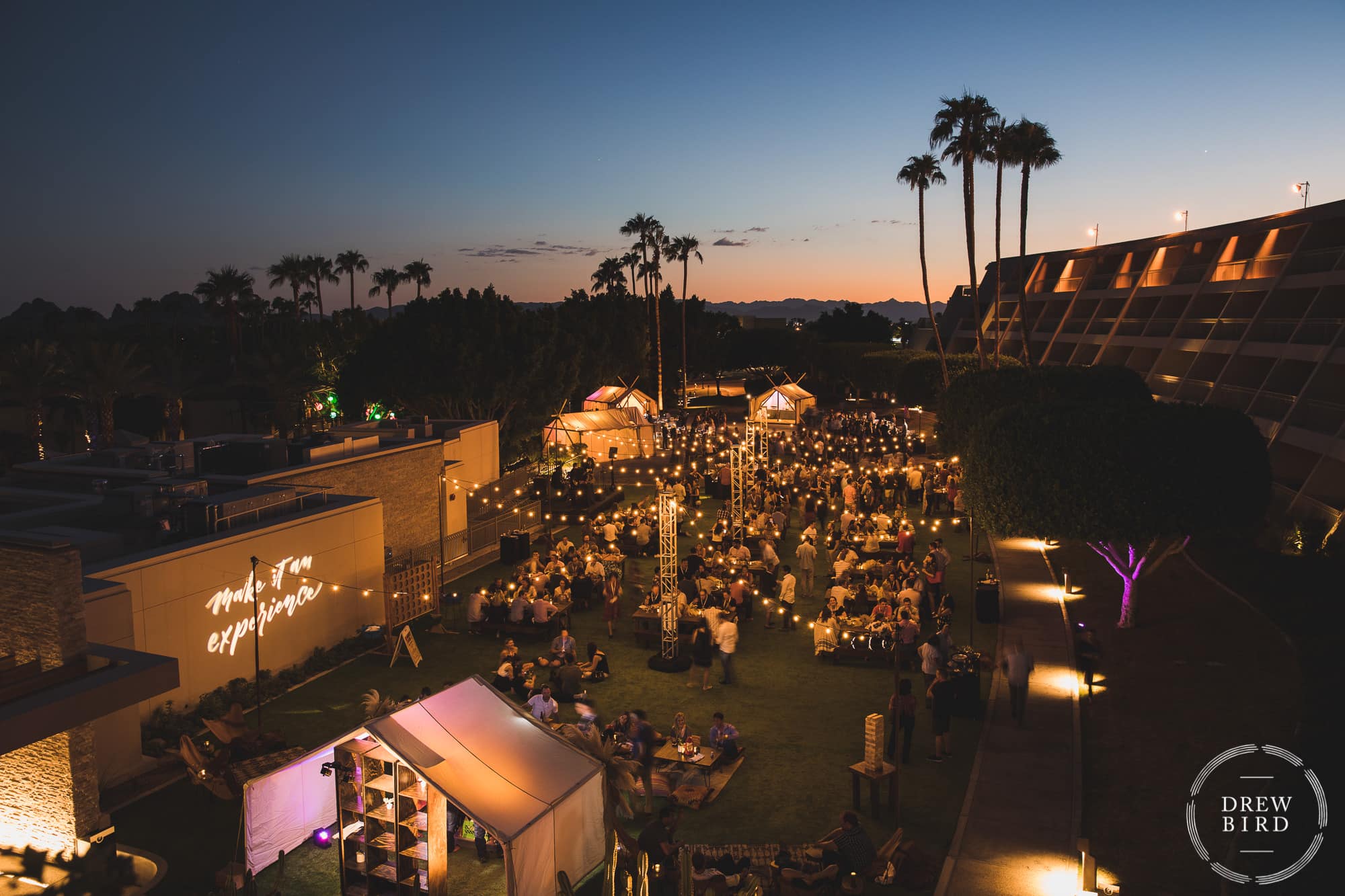 "Drew Bird is also an absolute pleasure to have at events. He is personable and enjoyable to work with. He's also dependable: I have full trust in Drew and never have to worry about him or his team. And, for an events person this is vitally important as my attention often needs to be in many different places. I highly recommend the Drew Bird Photo team for any project."
– Rachele C. | Global Events Manager | Adobe
Stage Presentations, Keynote Speakers, and Breakout Sessions
The main stage presentations and keynote speakers are also a big part of our professional conference photography services. Our team of documentary style photographers capture breathtaking and passionate images of an event's keynote speakers as well as panel discussions, audience reactions, and smaller breakout sessions. From wide angle images of the entire room to close up images of the presenters, we'll create a photo story that will inspire and amaze everyone in your network. Artistic and genuine photography will help to increase attendance for future years' events.
The main stage presentations and keynote speakers for Adobe's conference at The Phoenician were held in the hotel's incredible event and conference center. The Phoenician resort boasts more than 160,000 square feet of indoor conference and meeting space. This includes the Grand Ballroom and the Camelback Ballroom, both of which are great for hosting large corporate events in the Phoenix area. 
The main keynote speaker for Adobe's conference was former NBA superstar Earvin "Magic" Johnson. Magic spoke to a packed room about his time with the Los Angeles Lakers and his incredible success as a business person. Here are a few images from the main stage and keynote presentations: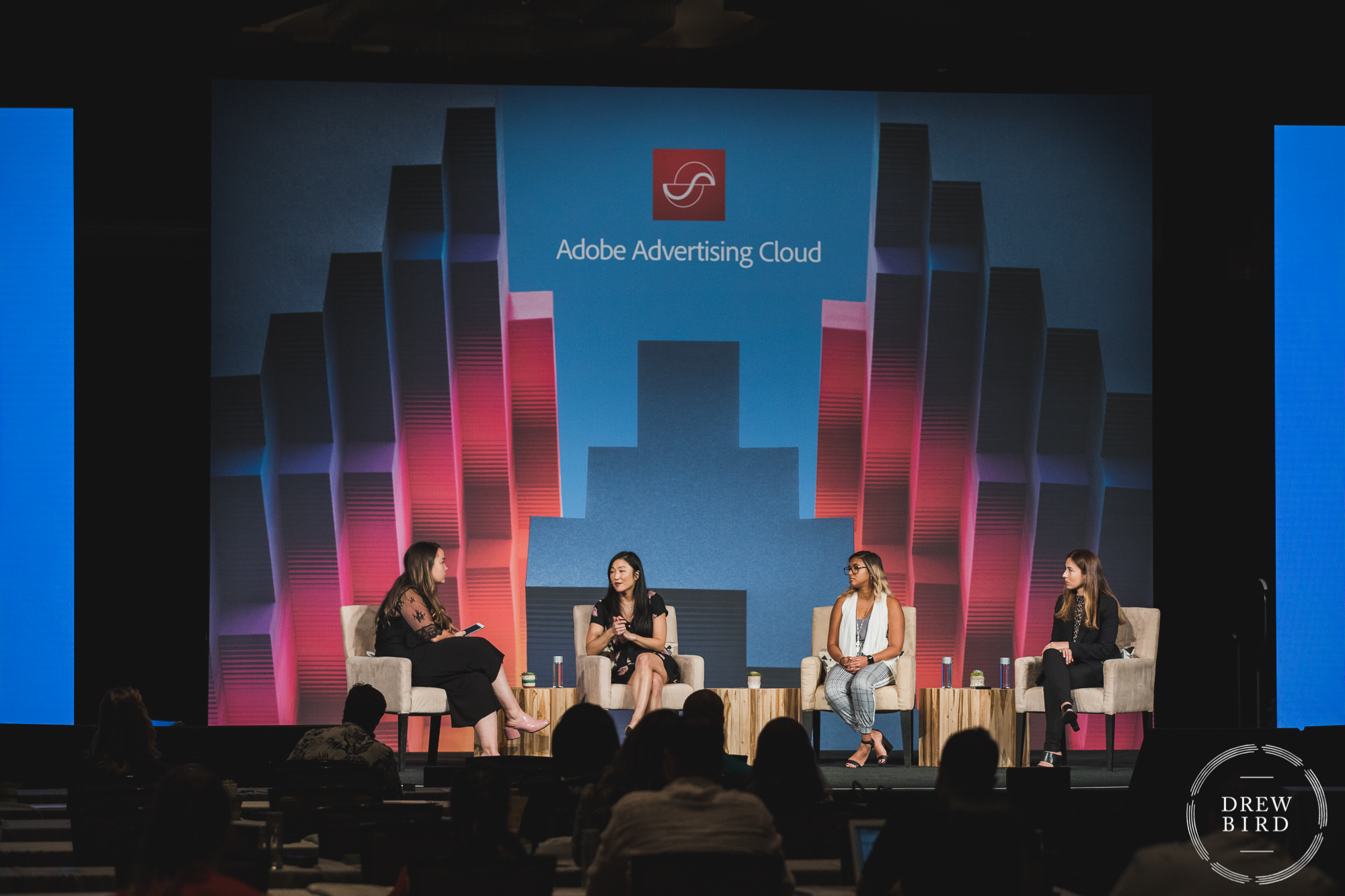 "Drew and his photographers are always where they need to be, yet they also find a way to blend into the background. They capture artistic moments and shape them into a beautiful story - a story that communicates the essence of our brand and vision."
– Rachele C. | Global Events Manager | Adobe
Conference Photography Pre-Planning and Travel
During the pre-production phase we worked with Adobe's events and marketing teams and the event planning company (Danielle Gibson Events) in order to identify the image needs of the clients, to identify the image end use for the clients and their branding and marketing goals. We also created an entire production schedule for the conference – so that my team and I would be sure to capture and photograph all the important events, speakers, and other networking events.
My team and I flew from The San Francisco Bay Area (where we are based) to Scottsdale, AZ two days prior to the conference start date. On the day before the conference started, we met with the clients and the events team. We walked through all of the different event and conference locations to better understand the event space. And we finalized our photography plan and schedule. We also used this time to register for the conference, pick up our badges and credentials, and to set up our gear and computers in a private room nearby. This room is kinda like a control post for the creative team. We use it to store our extra camera and lighting equipment and to set up our computers for an on-site editing station.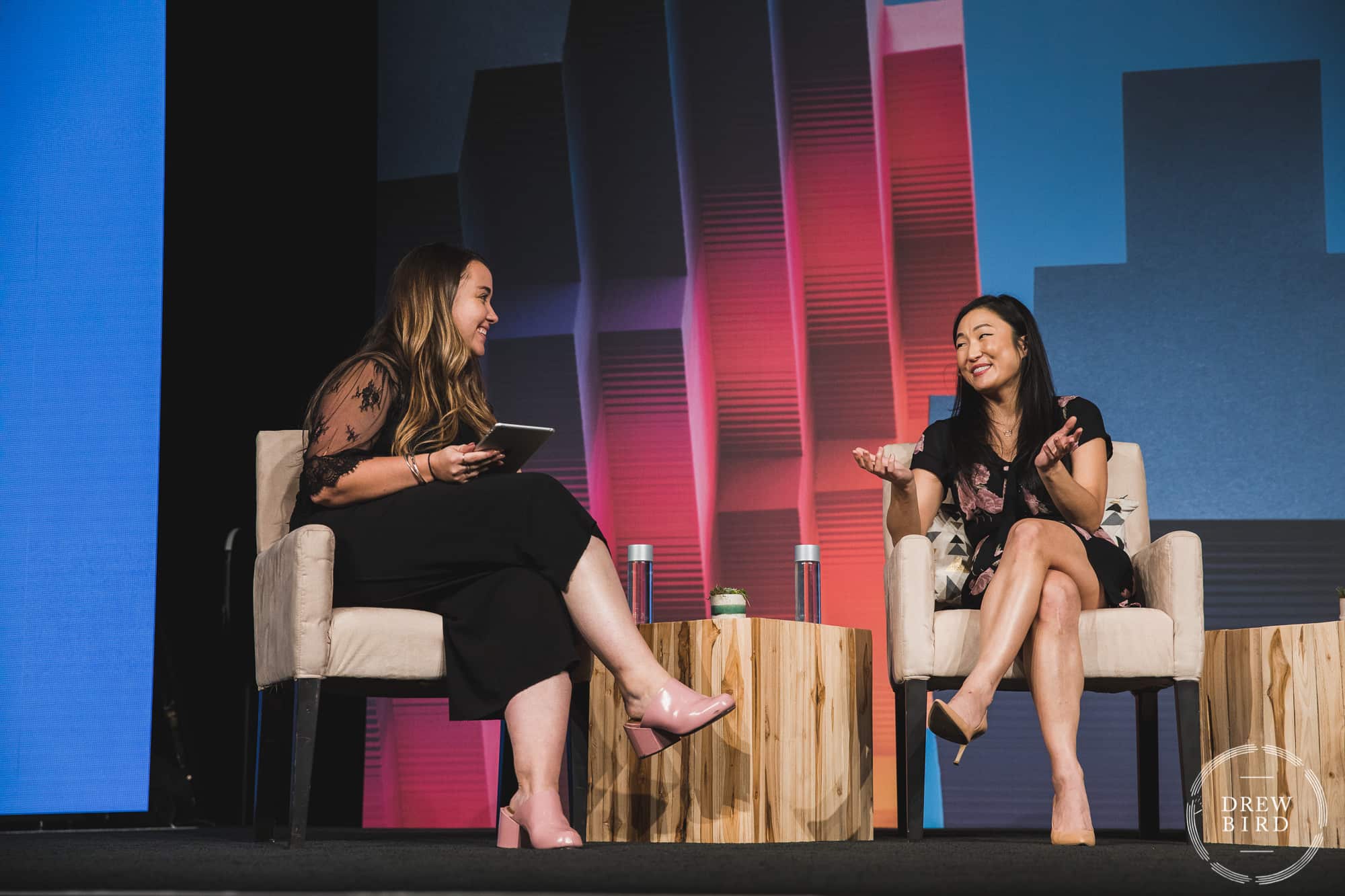 Same Day Rush Delivery for Social Media and Press Release
For many of our event and conference photography clients we provide rush same day delivery of final edited images so that our clients can use images for press release, for social media marketing, and to provide to event sponsors, executives, and VIPs. In order to provide same day rush delivery of final images we bring an extra person on our creative team to be an on-site editor. This person will sit at a computer in the control room. We'll give them media cards throughout the photography days and they will import, cull, and edit the images in near real-time. This is one of our most popular services for conference and event photography. See more in our conference and event photography brochure here.
This corporate event and conference photography story was created in partnership with Adobe at The Phoenician, a luxury resort in Scottsdale, Arizona. Drew Bird is an international corporate photographer, event photographer, and freelance photographer based in Oakland and the San Francisco Bay Area. Drew and our creative team have photographed high-end conferences and events all over the world. The size of our creative team can be scaled to meet the size of any type of event – from a 10 person team retreat to a 30,000 attendee global conference. Get in touch with Drew.